Around the start of the previous decade, Dr. Lawrence Volz said he was one of the first surgeons in Siouxland to start doing certain operations with robotics at MercyOne Medical Center. But it didn't feel entirely seamless to him.
"(The) first generation robot was really sort of poor quality," Volz said. "It was totally different. We just started doing simple stuff, like gallbladders, and it really didn't make sense to me. So I did it for a little while and then was like: 'This isn't worth the time and expense for a gallbladder.'"
Dr. James Hegvik, a general surgeon of three-and-a-half years who practices at MercyOne in Sioux City and Dunes Surgical Hospital in Dakota Dunes, first became aware of the viability of robotics in surgery while he was in his second and third years of residency. Mostly from afar though. And not at a rapid clip.
"A lot of staff were learning it at the time so we didn't do a lot of it during residency other than watching it," he said. "I think anybody in the hospital would tell you: When they first had the surgeons come in, they were painful because they were slow."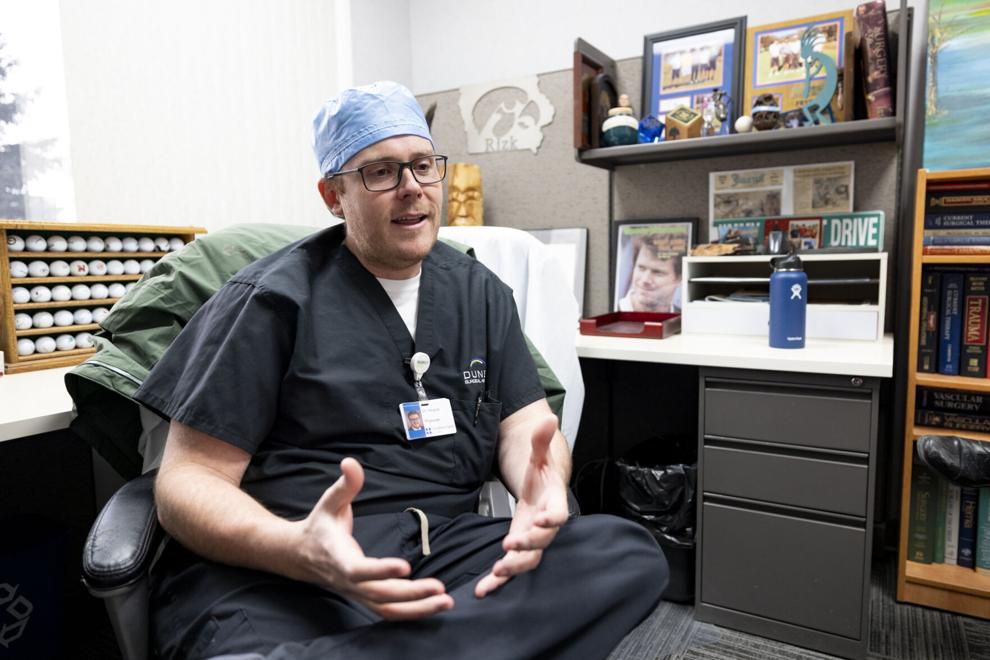 Dr. James Hegvik talks about the use of robotic machines to perform surgery. Dr. Hegvik's office is located at the CNOS – Sioux Point Clinic i…
Now though, things aren't so slow and noticeable. Certain robotics surgeries, say a colon removal, are smooth enough a patient can be sent home with Tylenol rather than narcotics, according to Volz.
And the possibilities for usage have grown, substantially. Robotics aren't just for gallbladders. Hegvik said it's possible to work throughout the entire abdomen. There are ways of injecting dyes, meant to find good blood supply, that can be done with robotics. "The tech gets better all the time," Volz said. We chatted with him and Hegvik about where robotics in surgery has been as practice, where it is now and where it's headed.
Hegvik said one of the reasons the initial usage of robotics in surgery moved at a slower pace is because outcomes drive everything and surgeons such as himself want patients to do well regardless of the approach used.
"So they were tedious and long but, you know, once you get through some of that learning curve, it's just as facile (timing wise) as it is laparoscopically (sometimes faster)," he said. (Laparoscopy is a procedure used to check the organs in the abdomen and requires small incisions in the belly, per Johns Hopkins Medicine.)
According to Hegvik, there wasn't a set amount of training required with the robotics. "Really, once you're comfortable doing it," he said. "You had a couple cases with the proctors and then kind of go to it."
Dr. James Hegvik shows an image of the robotic machine he uses to perform surgery. Volz said while the initial quality of the robots wasn't out of this world, things changed when subsequent generations came out.
"We started doing more procedures. Then we started doing hernias and bowel resections and pretty much everything in the belly we can do robotically now," he said.Dr. Lawrence Volz describes the difference between using a robotic machine to perform abdominal surgery vs performing the surgery by hand.
Nowadays, Volz does about 20% of his surgeries with the use of robotics. For intra-abdominal cases, the number climbs to 50%. "I'm probably a high-utilizer," Volz said. "I have some partners who don't do it at all. But I do. I find a significant value in it." He said one of the biggest pluses with current robotics in surgery is wrist motion.
"I can get around cores easier. I control the camera, the camera's three dimensions, so I can see a lot more accurately in there," Volz said.
Most often, a surgical robot will have two instruments (one in each hand) and a doctor is able to toggle between them from a control station. "A lot of times, if I'm operating, one of them will grab tissue and hold it, and then the other ones will work on cutting it or sewing it, something like that," said Volz.
In total, Hegvik said about 30% of his practice involves surgery with robotics. He agrees movement and vision are major incentives for robotic usage.
"You can use a wristed instrument inside the abdomen so it really can turn and twist a lot greater," he said. "(And) the visualization is wonderful. It's 3D. You get to control all of that. And it allows you to do things, inside the abdomen that, laparoscopically, just weren't really very doable." With that, Hegvik said he feels like the precision he can offer a patient is at a higher level.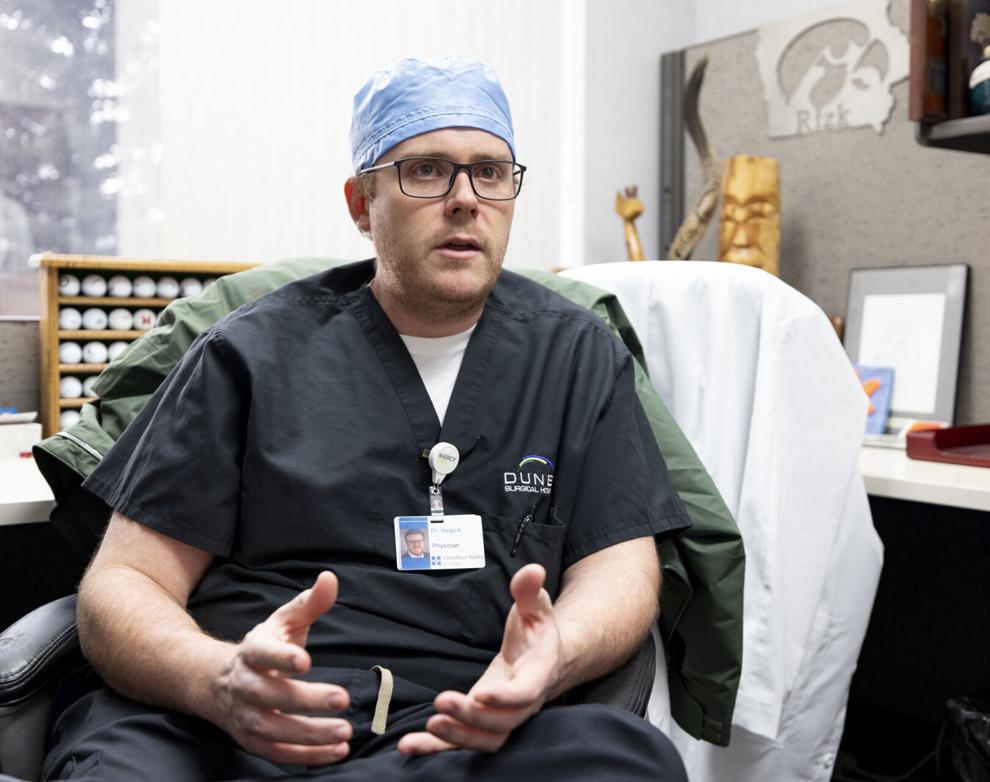 Both Hegvik and Volz agree that the future will be one where more and more can be done with robotics in surgery. "The technology is really good right now. Part of it is us learning how to use the technology better. And how to apply it and become more aggressive with what we're doing," Volz said. He then added that there are more robots being offered by more companies which will help drive prices down and allow for more practices to get onboard.
"I think some of the more intricate acute care surgery, like ruptured colons and things, it's going to be a 24/7 thing and everybody's going to know how to use it. I think really, as these residents are coming out of training, they're going to be even more comfortable with it."