Wade Jensen, M.D., F.A.A.O.S.
Dr. Jensen's Specialties

Cervical Spine
Thoracic Spine
Lumbar Spine
Scoliosis
Medical Education: University of Washington Medical Center
Fellowship: University of Utah, Combined Orthopaedic & Neurosurgical Spine Surgery
Residency: University of Wisconsin Medical School
Internship: University of Wisconsin Medical School
Dr. Wade Jensen was born in the mountain west. He completed his undergraduate degree at Idaho State University in 1998 graduating with honors. He then attended the University of Washington School of Medicine Seattle where he graduated A.O.A. with high honors and earned his Medical Doctorate.
Wade completed a surgical internship and Orthopaedic Surgery Residency at the University of Wisconsin Medical School in Madison, WI. He then chose to continue his training in a combined Neurosurgical and Orthopaedic Spinal Surgery fellowship at the University of Utah Hospitals in Salt Lake City, UT. It was our pleasure to have Dr. Jensen join CNOS in 2008.

Dr. Jensen's training makes him uniquely qualified to treat simple to complex cervical and lumbar disorders. Dr. Jensen is the scoliosis surgeon for the region. He specializes in minimally invasive spine surgery. Dr. Jensen holds multiple spine implant patents in an effort to improve patient outcomes. He is a Board Certified Orthopaedic Surgeon and a member of the South Dakota State Medical Association, Iowa Orthopaedic Society and North American Spine Society.  He is currently the Director of the Spine Division at the Dunes Surgical Hospital. When not working, Wade enjoys spending time with his 4 boys: fishing, hunting, golfing, snowmobiling and just hanging out.
"I've been coming to CNOS since 2016 to see Dr. Jensen for back issues.  The staff at CNOS is friendly and efficient. If need be, they go the extra mile to accomplish the patient's needs." - Polly

"Consider yourself very fortunate to be seen by Dr. Wade Jensen. He is exceptional, knowledgeable, professional, and kind. He will diagnose your problem, and treat it with results. After being seen by two other specialists with little relief, Dr. Jensen was the one who was able to get to the bottom of my problem and treat it successfully. I highly recommend Dr. Jensen to anyone looking for a top-notch specialist!" - Anonymous Patient


"I find Dr. Jensen very compassionate, knowledgeable, easy to understand, and really listens to you and your concerns. He fixed me when I was struggling and has taken very good care of me. I highly recommend him for his expertise kindness and compassion." - Anonymous Patient

Mobi C: Cervical Spine Surgery Option: Improved Treatment for Cervical Disc Disease
Dr. Jensen 's Team
At CNOS you'll have a whole team supporting your care. Our team approach is just one way we show our commitment to excellence and improving your health. If you have any questions during your treatment, your care team can help.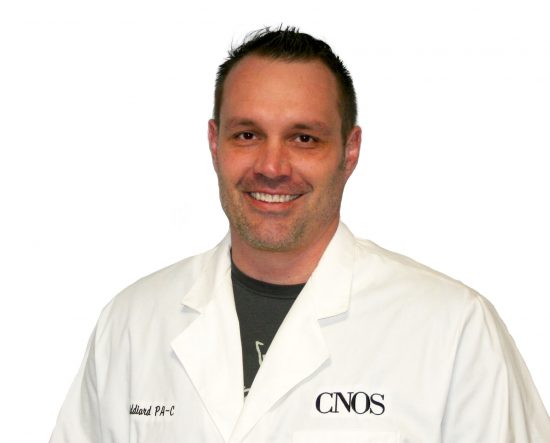 Stephen Liddiard
Orthopaedics Physician Assistant