Ryan Meis, M.D., F.A.A.O.S.
Dr. Meis's Specialties

Knee Ligament Reconstruction
Shoulder
Elbow Injuries
Throwing Injuries
Total Joint Replacement
Medical Education: Creighton University, Subspecialty Certification in Sports Medicine
Fellowship: American Sports Medicine Institute, Birmingham, AL,Trained in Sports Medicine and Knee, Shoulder, and Elbow Surgery
Residency: University of Wisconsin-Madison
Subspecialty Certification: in Sports Medicine  

Dr. Ryan Meis was raised in Crescent, IA, then attended Morningside University where he was a 4 year starter and First-Team Academic All-American shortstop on the baseball team. He then returned to the Omaha area for medical school at Creighton University, before moving on to Madison, WI for an orthopaedic surgery residency. Dr. Meis next spent a year with Dr. James Andrews at the American Sports Medicine Institute in Birmingham, AL where he completed a fellowship in sports medicine and knee, shoulder, and elbow surgery. He has been with CNOS since 2005.

Dr. Meis is dedicated to the individualized and personal care of each of his patients and their unique circumstances. Due to his own experiences and specialty training, he has chosen to focus his practice on the care of patients with athletic injuries and specialty care of knee, shoulder, and elbow disorders. His experience in Birmingham has provided him with a special appreciation for and understanding of injuries to the throwing athlete. He has written a number of articles and book chapters for publication.

Dr. Meis is board certified by the American Board of Orthopaedic Surgeons and is a member of the American Academy of Orthopaedic Surgeons, the American Orthopaedic Society for Sports Medicine and the Arthroscopy Association of North America. He serves as the team physician for Morningside College and assists with care of multiple high school teams. Dr. Meis also lectures and demonstrates shoulder procedures nationally. He has completed the subspecialty certification in sports medicine.

I have had such a great experience. I am just amazed at the warmth and concern that is shown by every single person I have had contact with in Dr. Meis' office. And every one of them offer so much information that has been very helpful to my recovery from surgery. I could not be happier with Dr. Meis and his team of professionals.


Actual Patient
 I had rotator cuff repair surgery with Dr. Meis at CNOS in February and although surgery of any kind is usually not on anyone's top ten list of desired life experiences, the quality of care I have received has made an unpleasant experience MUCH more tolerable. I have been treated with courtesy, respect, and dignity by all the staff at all times from the front desk, the surgeon, and the physical therapists. I really feel like I'm seen and heard, my questions have been answered patiently and thoroughly. Dr. Meis and Nichole are brilliant in the operating room and compassionate and dedicated to my healing in a beautiful down to earth way. Much gratitude to all at CNOS.

Actual Patient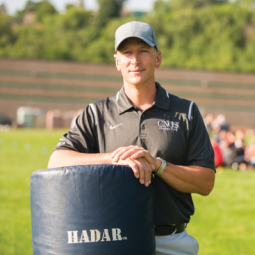 Dr. Meis Featured in August 2018 Med Magazine
He's at the Top of His Game
Read the Story
Dr. Ryan Meis on Concussion Management
Dr. Meis speaks with KTIV to explain concussion protocol, CNOS involvement in regional schools ImPact testing, and recommendations for parents and athletes.
Dr. Meis on Healthbeat 4
Trusted Resources
Dr. Meis's Team
At CNOS you'll have a whole team supporting your care. Our team approach is just one way we show our commitment to excellence and improving your health. If you have any questions during your treatment, your care team can help.